The San Diego CISO Roundtable was founded in 2007. The organization started with 8 members and has grown now to 100+ members and meets quarterly. The Roundtable consists of many different industry verticals to include Energy, Critical Infrastructure, Medical/Hospitals, Defense, Manufacturing, Banking/Financial, E-commerce, and others.
The focus of this group is to share current threats, Intel, and concerns as well as mentor the younger/newer CISO's with in the group. This promotes an atmosphere of learning and engagement for all members. The motto for the group is – Lead, Learn, Teach.
The Roundtable does not typically allow outside attendees/vendors to attend so that everyone can speak candidly and adhere to the strict rule of confidentiality within this group.
San Diego CISO Roundtable Board of Directors

Macy Dennis
Founder, Board Member

Terrence Weekes
Board Chair

Darren Bennett
Board Member

Emily O'Carroll
Board Member

Jason Callahan
Board Member

SSA Nicholas Arico
Board Member

Tina Lovoy
Board Member

Todd Friedman
Board Secretary
Join the San Diego CISO community!
Visit us on Linkedin | Contact our Board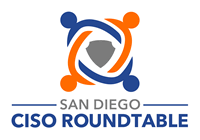 © 2021 San Diego CISO Roundtable